THE 13th PENNSYLVANIA CAVALRY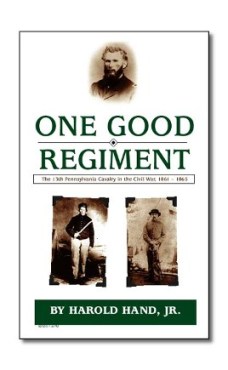 WELCOME! This is the home page of the 13th Pennsylvania Cavalry and the regimental history entitled "ONE GOOD REGIMENT," published by Harold Hand, Jr., in November of 2000. The trade-paperback is 320 pages long with many photos of the men, a full muster list of the regiment, and much primary-source material. The author may be contacted via email for regimental information or book sales, and of course, autographed copies are available!
Contact Sonny if you have questions pertaining to the regiment or the book!
The 117th Pennsylvania Volunteer Regiment became better known as the 13th Pennsylvania Cavalry. This dual-numbering system was used for most of the Civil War regiments, and it can be confusing if it is not understood. For example, the 42nd Pa Vol regiment became the 13th Pa Infantry ("Bucktails"), and the 121st Pa Vol's became the 16th Pa Cavalry, etc.
"One Good Regiment" is the first regimental history of the Thirteenth Pennsylvania Cavalry. This is not a romantic tale of war and the women they left behind. It is about men who become bored with routine camp life and freezing nights in tents without heat. Men who learn first to care for the horse and then for themselves. Men who learn to be accustomed to hunger and sickness and death, long before fighting their first battle!
When the bullets fly they react as men could be expected to react. Confused and led by some men who may not have been good leaders, the outcome of early encounters is often predictable. Later, in one of the lesser-known battles of the Gettysburg Campaign, the regiment is ordered in front of enemy artillery during a midnight ambush and suffers casualties of almost half the regiment. But they learn, they prevail, better leaders rise to the occasion, and by the time General U.S. Grant turned the Union army into the Wilderness in 1864 the regiment knew what they had to do. And they did it well, serving with Gregg, Sheridan, Burnside, Custer, Hancock, and others. When General Grant asked for "One Good Regiment" of cavalry for a particular assignment, the Thirteenth was chosen.
Using letters, diaries, photos, and official correspondence, some of which are published here for the first time, the author traces the lives of cavalrymen at war. With brutal honesty, humor, and humanity, the men struggle to survive boredom and sickness, as well as the hail of bullets and cannonballs. They'll tell you how they felt about the life they lived, why they were fighting this war, and about the bond with their friends and fellow soldiers that they were dying for.

Email: vineland52@yahoo.com